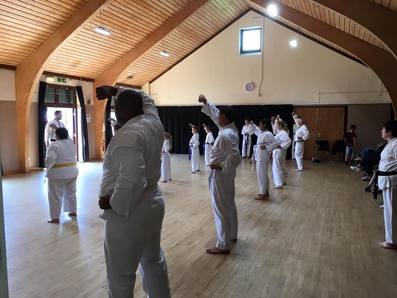 Feeling like you're part of the family – right away...Often after just one class people tell us how they feel like they've known everyone for years. That's because we place a big emphasis on creating not just a great martial arts environment – but a family environment. You'll feel like part of the family in no time. And you'll know you're among people who really care about you and your success.






Frequently Asked Questions

Q: Do I need to be super fit to do karate?
NO, even though our classes are a high energy work out you can take a breather at any time and we will never ask you to do anything you can't handle, your fitness will grow with time.

Q: Do I have to take part in Sparing?
NO, sparing is totally optional, plus if you do decide to take part in sparing we are a NON-CONTACT family club, so if you are looking for a contact karate club then I am sorry to say we are NOT the right club for you AT ALL.

Q: Do I have to take gradings?
NO, if you just want to get fit and learn how to defend yourself that's fine with us, so grading is optional :)

Q: Do I need to be flexible to take karate?
NO not at all the high kicks are for the movies, we can teach you to kick very effectively to the lower body, and you will become more flexible over time with our stretching programs.

Q: Will I be thrown around doing karate?
NO, throwing is done in Judo and not in karate.

Q: Do I need a uniform to start?
NO, tracksuit bottoms and a t-shirt will be fine to start and you will receive a FREE uniform once you join the club.

Get started today, why not give us a call right now to book your FREE taster lesson, don't put it off as places are limited, call us on 01332 603366.

---