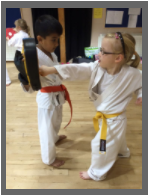 From focusing on goal setting to self-discipline, to self-respect – kids emerge from our classes changed for the better in a very short time... And their parents couldn't be happier!
---
---
To a Caring Parent,

Here at JBK we have been working with parents and their children for many years helping them learn new ways to develop their children into confident outgoing happy kids...And we are proud to say when your child is part of JBK they are treated like family.

You see we know only too well how much a child needs support and guidance through life, so why should that stop at home! we are passionate about bringing all the massive benefits that martial arts can give, to every child that steps through our DOJO doors...And we have all kinds of children come through those doors...children with no confidence at all, children who are distracted and lack focus, children who are overweight and don't like exercise, to children who just don't have any self-belief at all.....

But after just a few weeks of training with JBK this is what happens...

CLEAR FOCUS
In karate we have kids do one thing at a time. For younger kids, and kids with severe ADD, they may only do one thing for 30 seconds - but for that 30 seconds that's all they focus on.


DETERMINED TO SUCCEED
From day one in karate your child sets goals, and accomplishes them. The more and more they do this the more ambitious they will become.


FINALY PAYING ATTENTION
Parents with children with attention problems breathe sighs of relief after just a few short weeks
you see we teach kids to look people in the eye when they are being spoken to, we teach them this is how you show you are listening and paying attention.


These are just a few of the benefits children gain from leaning karate with JBK, plus so many more, but rather than me tell you, listen to what these happy parents have to say about JBK.


"A significant change, in only 2 short weeks…"
Gary has a bit of a temper, but I've already noticed the change. He's more respectful to me. And his teachers can't believe it! He calls them "Miss" and "Sir". No other kid in his class shows their teachers this much respect. It really makes me feel great, and I feel like I've done a great thing for myself and my child by enrolling him into JBK...And the instructors at the club really do put their all into all the kids, it's great to see. Thanks Jane Thomas.

"She just can't wait for 'karate days'…"
At first, I wasn't sure if Ashley would like karate. After all, she's only 6, so she never really sticks to anything.

Boy was I wrong! She gets extremely upset if we ever have to miss a class now. And I can tell she's more focused, more attentive, and just all around happier after starting this with the Academy, I would tell anyone to get their kids involved as soon as they can.
Mrs. D Roberts.

"The bully backed down."
When Brian got off the bus today and got in the car, he couldn't stop talking about how he stood up to this bully who had been picking on him for weeks! He said the bully backed down, and everyone saw it! I got so choked up that he looked at me and asked me why I was crying.

I just told him I was so proud of him, he knows he cant use what he is learning with JBK unless it's in self-defence, the instructors are really clear on that and it's not to be used for the playing around.
Thank you Dave Ross.

"Unbelievable! He did his homework the first time I asked!"
I just wanted to tell you that Michael did his homework today the first time I asked him! I'm still in shock! I know it's because of what he learned in his karate class.You have put together an incredible program. Thank you so much. Linda Gladstone.


As you can see karate is more than just punching and kicking it can change your child's life for the better forever, so give us a call today and let us help you build your child's future together!



---
TO BOOK YOUR CHILDS TOTALLY FREE TRIAL CALL US ON 01332 603366 TODAY!